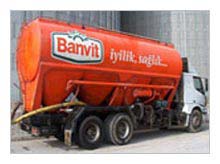 Have you ever wondered how the farmers manage to store the grains and other feeds that are grown in bulk in India? We commonly presume that the grains and other feeds are stored in large rooms until the final dispatch to the concerned vendors. But that's old school! With the development in technologies and the increasing concern of hygiene Bulk Feed tankers has been invented to store large quantity of grains and other feeds that not only protect the feed from rodents and other insects but also keep the moisture in control to increase the shelf life of the feed.
Bulk Feed Tankers, abbreviated as BFT's, have proven to be a remarkable invention to store and protect the grains and other feeds. Bulk Feed Tankers serve all the purposes to keep the grains and other feed secure in an airtight container, a sealed roof and hopper body design to protect the feed from the moisture. These tankers also ease the process of direct loading and unloading the grain. These tanks also include an optional hopper regulator for accessing small amounts of materials to a location not serviced by the auger system.

These tankers can be hooked to the truck bodies that are expended for transport of bulk feed that involves feed for fish, poultry and dairy, noncorrosive mass material, chemical and pharmaceutical powder, grains and many more. Bulk feed tankers have become immensely famous method of storing feed as they are easy to install, decreasing the expansion cost and also its hoper makes it convenient to unload the feed in a shorter time. Many of these tanks are customized to store a various grains in a sealed roof and moisture resistant body.

The roof of the tanker is usually manufactured with supreme, ductile, galvanized steel. The reason to use ductile steel is that it adds up to 20% more strength, without adding on more weight that is vital in perfect span roof structural design. Roof rim clearance is accustomed at the time of installation. Roof rib is formed with rolls that are formed with four supportive curves in the perpendicular sides for maximum strength. High roof ribs are completely double overlaying for moisture resistance and additional support. Peak cap that can be conveniently opened offers a huge opening for faster filling. These tankers also attribute the 'automatic lock control access' system that can open, close and latch the fill cap securely and effortlessly from the ground only.

The bulk feed tanker manufacturers should make use of the authentic grade materials and modern techniques in order to bring about a quality product. They should be capable of making bulk deliveries of the products within the given time frame. By adopting the ethical business practices and competitive pricing policies, the manufacturers of bulk feed tankers can attain a powerful position in the market
Hence, it can be stated that with the above-mentioned remarkable features, bulk feed tankers are the best-suited storage system that solve many purposes with utmost convenience.
This entry was posted on February, 06, 2020 at 12 : 57 pm and is filed under Bulk Feed Tanker. You can follow any responses to this entry through the RSS 2.0 feed. You can leave a response from your own site.