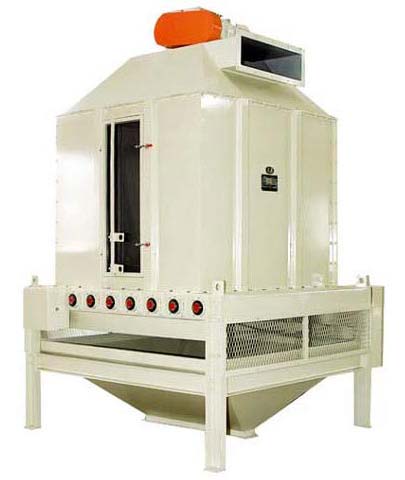 The pellet cooler is a device used for cooling down the cattle feed pellets, making it storage able and packing able. It cools down the pellet in very less time. It is very commonly used in pellet making industry. It is also used to cool the store of grains, corns, rice, paddy, and oilseeds.
The cooler is particularly used to cool the pellets after being pressed by the pellet mill. The pellets, when manufactured are hot and contain a high amount of vapor. The pellet cooler cools down the pellets to the room temperature. The hot pellets are put into the cooling chamber and filed onto the paralleled turning plates. The broken pellet gets collected for reproduction. The cooler is capable to reach the temperature of 2-5°C higher. It consumes very less power and the cooling process gets completed in just 10-15 minutes. The machine is highly durable and reliable to use in the long run.
The machine is known to maintain the pellet quality and is easy to operate and clean. The machine is widely appreciated for its automation process. It is an ideal machine for the production of aquatic feed and high-grade feeding for domestic animals. The cooling process makes pellet moisture less than 12.5 %, which makes it apt for storage and shipment. The machines come with the air-closed material feeder, large inlet air, area and produce a little residual.
In India, there are many manufacturers and suppliers who deal with pellet cooler and provide it at a very cost-effective price. There is a huge demand for such coolers, owing to their uses and benefits. The coolers are made from the high-quality raw material, sourced from the most authorized vendors in the industry. All equipment passes through stringent quality checks in order to avoid any damage during transit. The products are manufactured in accordance with the prescribed quality standards and guidelines, set by the industry. By adopting the below-mentioned business practices, a supplier of pellet cooler in India can surely become the market leader:
• By making people aware of the uses and benefits of the product.
• By appointing highly experienced staff, who is proficient in understanding the technical complications and plan the marketing tactics.
• By joining hands with foreign companies to increase the share and supply in the overseas and global market.
• By cutting down the price to reduce the cut-throat competition in the market.
Thus, it can be concluded that pellet cooler is one of the most sought-after items in recent times and its demand is sprouting day by day.