Purchase Bucket Elevators Of High Quality From Bucket Elevator Suppliers In India
Posted by Admin on December, 29, 2020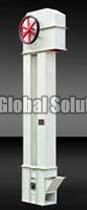 The bucket elevator is mainly used for lifting of material at 90 degrees. The Bucket elevators are designed by experienced engineers, and they are competent to produce them in bulk. The divider flap provided in the bucket elevator is mainly used for changing the mode of outlet materials. The list of prominent Bucket elevator suppliers in India is quite vast, and they make available this material handling equipment in high quality. It is not at all difficult to maintain this equipment as it has non-corrosive housing and is robustly constructed.

Imperative Features of Bucket Elevator

The Bucket elevator suppliers in India make available these equipment in a wide range of designs and their capacity ranges from 1MT/H to 50MT/H. The Bucket elevator is widely used in industries like food, fertilizers and grain industry. The equipment is designed keeping in mind the international standards, and under safety regulations. In addition, the bucket elevator obtainable by the suppliers is extensively used in home moving rocks.
Specially designed bucket elevators of different capacities can be accessed from the manufacturers, and according to the specifications required. These are specially designed to handle not only hot materials but even abrasive materials. It makes use of very less power for lifting of the load on an inclined or horizontal position. It is constructed sturdily, and it comes with overlapping bucket lips as well as continuous chain design. It is compactly designed and offers a longer service life. The other purposes for which the bucket elevator is made use of include moving of flowing seeds, powders and cereals.

Uses of Bucket Elevators

Bucket elevator is a highly efficient machine that is appreciated for its precise dimensions and even for higher functional life. It is an excellent industrial machine that is extensively used for varied industrial applications. Bucket elevator designed in vertical design is used to convey dry materials. The machinery is mainly designed by use of stainless steel material or carbon steel, and it can be installed without any difficulty. It is an extremely durable machine that finds great use in mining industry, chemical industry and in cement plants.

The machinery is made available by the Bucket elevator suppliers in India in different sizes, and that too in a seamless finish. It is mechanically operated for transportation of materials and operating the machinery is very easy. The manufacturers make use of material of optimum quality for designing this heavy duty machinery, and that is stringently checked for its quality as well as performance.
This entry was posted on December, 29, 2020 at 14 : 53 pm and is filed under Bucket Elevators. You can follow any responses to this entry through the RSS 2.0 feed. You can leave a response from your own site.