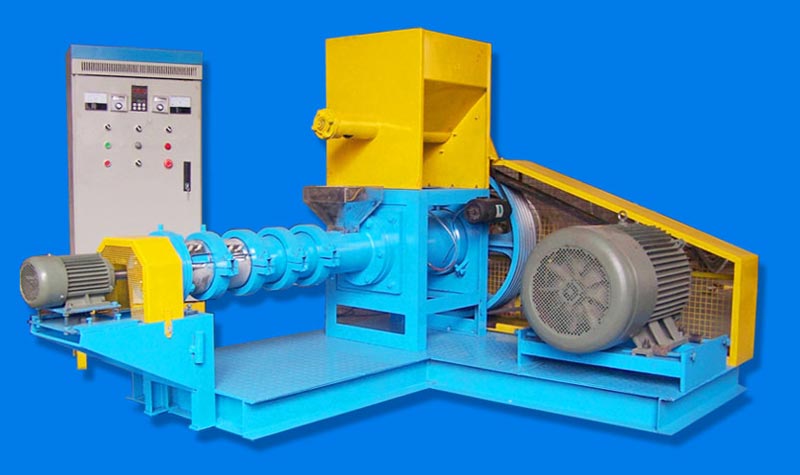 An Extruder is a machine used in the processing of food. It forces the mix through the die, which is an extruder and the mix is called as the extrudate. The machine enables mass production of food and the final product is absolutely uniform in shape and size. The food items manufactured using the extruder are high in starch content. It includes breakfast cereals, pasta, breadsticks, full-fat soy, textured vegetable protein and beverages also.
The machine is very commonly used in industries where the food for chicken, duck, rabbit, horse, prawns etc. is made. It is exclusively used for the preparation of semi sinking, floating and sinking feed for animals. The machine is available easily in different specifications such as small-scale, the normal manual, automatic, and fully automatic versions. The capacity range of the machine ranges from 100KG/H to 10MT/H. The pellet size goes up from 2mm to 10mm. The two most commonly used machines are the small scale extruder and wet extruder machine.
BENEFITS


• The extrusion process helps in the reduction of microorganism in the final product.
• It also results in an increase of iron-bioavailability.
• The complex starch process is simplified and it increases the presence of carbohydrates for digestion.
The machine function quite efficiently and smoothly. It is easy to handle and has a long span of life. Many online portals are supplying the machine at a discounted price, with the added facility of delivery at the doorsteps. The modular design of the machine is highly demanded in the national as well as international market as it helps in blending, pushing, liquescent.
The manufacturers who deal with extruder machine, also deal with Wood Chipper Machine, Automatic Begging Machine, Industrial Mixers, Crumble Machine, Sieving Machine, Pellet Cooler and so on.
In Punjab, there are many manufacturers and suppliers who deal with extruder machines and provide them at a very cost-effective price. There is a huge demand for such machines, owing to their uses and benefits. The machines are made from the high-quality raw material, sourced from the authorized vendors in the industry. All machines are made in accordance with the prescribed quality standards and guidelines. The manufacturers in Punjab ensure the use of the latest technologies so that world-class machines are manufactured in bulk quantities, within the stipulated time-frame.
Thus, it can be concluded that the extruder machine is one of the most sought-after items in the recent times and its demand is sprouting day by day.