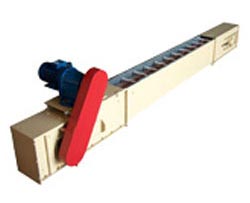 If you want to move materials whether heavy or low weight from one place to another, use well-known equipment conveyors. Stainless steel conveyors are mostly used for relocating materials from one location to another in a production plant. Conveyors add value to the production process by making the work handy.
Different types of conveyors are being used for conveying all types of materials. Below is a list of different types of conveyors.
• Screw conveyors
• Slat conveyance systems
• Powered conveyance systems
• Ribbon type conveyor
• Drag chain conveyor or Redler conveyor
All these conveyors are made up of stainless steel which enhances the efficiency of any production process. These conveyors use minimal time in conveying goods from one point to another. One of the most used conveyors is drag chain conveyor. There are many drag chain conveyors or Redler conveyors suppliers in India who make this valuable product available in bulk.
About Redler conveyor
The Redler conveyor or drag chain is mainly considered for its great capacity. It works best in horizontal transport over long distances of a big quantity of heavy materials. You can use it to convey cereals, seeds, flours and definitively any grain product.
Auxiliary elements of Redler conveyor
• Unloading chute
• Trestles / Feet supports
• Bottom tray of collection
• Electrical safety systems
• Speed regulators / Frequency converters
• Side windows
Structure of Conveyor
The frames are made of reinforced and screwed metallic sheets. One is higher and one is lower in a "U" shape. You can make different modules in a square or rectangular shape according to the needs of the application through which the chains pass guided with their drag plates.
The drive and tail shafts are attached to the main frame with support using bearings. The gearwheels are joined to these shafts and fixed at both extremes to the shafts using conical expansion rings.
Two chains are supplied with wings, for the riveting of the metallic drag plates. This consequently facilitates ensuring a uniform and constant progress of the product inside the conveyor.
Other Specifications
The height, weight, capacity, and speed of the conveyance depend on the product and the specific requirements of each installation.
Hence, to buy this useful product you need to search one of the best Redler conveyor suppliers in India. Online searching can make this task simpler.
Following are the features of suppliers of Redler conveyor in India to make a preferable choice-
• High performance
• Durable products
• Timely delivery
• Customized solutions (on packaging also)
• Client-centric approach
• Ethical business policies