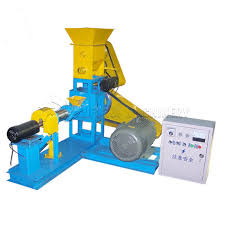 As people are growing more and more careful about the quality of food that they eat, similarly quality of animal feed has also started to fall under the scanner nowadays. The extruder machine manufacturers in India are making extruder machines, which are used for the production of extruded pet foods, extruded animal feed and floating extruded aquatic feed.
Working principle of extruder machines
Food extrusion is the process by which large volumes of uniform shaped and sized food particles are produced. The process in the simplest form involves the forcing of mixed ingredients of the desired food through a perforated screen to cut the food in a specific shape and size.
The extruder machine is characterized by a long barrel which has a screw auger inside it. The feed mixtures are subjected to very high pressure and high temperature by means of this screw auger, which is specially designed for doing this. After the ingredients have been solidified to form pellets of many types (floating, dry, sinking or semi sinking), they are subjected to the knife assembly that cuts pellets into various sizes ranging from 2mm to 10mm.
Benefits of extruder machines
With the traditional process of manufacturing animal feed, many harmful bacteria and germs are killed with the high temperature that food is being exposed to. The exposure to the high temperature, however, is not able to kill salmonella, which is a poisonous bacterium that could impact both the animal and general public health as well. Salmonella is one of the top reasons of food poisoning in animals as well as human beings This is where an extruder machine comes into the picture.
Owing to the high pressure and the extreme high temperature that the ingredients are subjected to, along with other harmful bacteria, salmonella also gets killed thereby making the animal feed absolutely safe and healthy for animal consumption. There are many other benefits of using extruder machines for the production of animal feed. Large quantities of animal feed can be manufactured at the same time without any additional resources.
The machines which are manufactured by the extruder machine manufacturers in India are used not only to produce food for livestock, but also for a variety of animals like dogs, horses, ducks, and fishes as well. Floating, semi sinking and sinking feed for animals can be easily prepared with the help of these extruder machines which save a lot of investment on buying various types of machines for different categories of animal feed.